Checking
You are more than just a number. Each checking account holder at The Bank of San Jacinto County has a vital relationship with a genuine community bank. We are honored to be a bank that you trust for your financial services, and our checking accounts are just the start of the many ways you will experience the difference with The Bank of San Jacinto County.
Every checking account we offer comes with these benefits:
Fraud Monitoring
State-of-the-art transaction pattern tracking and risk algorithms to limit the risk of unauthorized activity on your account.
The BSJC APP
Access all of our online banking features from your phone. And with integrated biometrics, login with your fingerprint.
E-Statements
Rather than waiting for paper statements to clutter your mailbox, we can email them.
Mobile Deposit
Make deposits into your account from your phone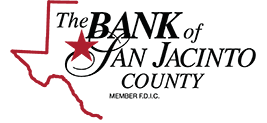 Pop Money
Send money to anybody with a phone or an email address.
Visa Debit Card
Carry a card that you can swipe across the globe.
Notifications
Set up custom notifications, from a daily balance email to a text message for every purchase.
Online Bill Pay
Set your bills up to pay automatically. No checks necessary.
| Account | Economy Checking | Regular Checking | Silver Checking | The Bank Club Account |
| --- | --- | --- | --- | --- |
| Description | One monthly charge. No minimum balance and no hidden fees. | Keep $1,000 or more in your checking, and have no monthly fee. | If you are 62 or over, take advantage of a lowered fee that can be waved with a low minimum balance. | Best value in banking! Free checks, $10,000 AD&D policy, cell phone insurance, and much more. Learn more here. |
| Minimum to open | $50 | $250 | $250 | $250 |
| No monthly fee with a minimum balance of | N/A | $1000 | $500 | N/A |
| Monthly fee | $7.75 | $10.50 | $6.25 | $10.49 (over 62 years of age $5.49) |
Interest-Earning Checking Accounts
If you expect to carry a higher balance in your account, these accounts will pay you!
| Account | Super NOW Account | Elite Checking |
| --- | --- | --- |
| Description | An interest-bearing checking account for balances above $2,000. | Our most prestigious account. Free personalized checks, cashier's checks, 50% discount on a safe deposit box, and more. |
| Minimum to open | $2000 | $4000 |
| Minimum balance to waive the monthly fee | $2000 | $4000 |
| Monthly fee | $18.50 | $18.50 |
Interest is paid on a variable rate that is subject to change daily. Interest will be computed according to the simple interest method calculation based on a 365 day year and will be calculated on the daily balance. Interest will be paid monthly.
The Bank Club Account
A whole lot more than a checking account.
The Bank Club Account offers additional benefits designed to save you money and give you peace of mind. With a monthly fee of $10.49 (or $5.49 if you are 62 and over), you'll have instant access to these benefits:
$10,000 Accidental Death & Dismemberment
Insurance Coverage is provided immediately at no additional charge. If joint account, total coverage is divided evenly. Coverage includes several additional benefits related to accidental deaths or dismemberment such as coma, seatbelt and airbag benefits. You may elect additional coverage.
Not a deposit or guaranteed by the bank and not FDIC insured.
Shopping, Travel & Attractions Discounts
A dynamic program that will reward you every time you use it. Save on hundreds of products, and find great deals while you shop in stores, restaurants or online. Login to the website and click on Savings Made Easy to access the features of this service.
CyberScout® Lifestages
If you become a victim of identity theft, call the toll free number, and you will be assigned to a highly qualified fraud specialist who is your single source to help you resolve your problem from start to finish. Get your problem corrected with the help of a one-on-one expert. Call 1-866-602-2056 and provide member ID# IDT12006. More information on the member benefit website.
Personal Estate Guide
In the event of a death, would your loved ones know where to find the information needed to settle your estate or any of your immediate family's estate? With the Personal Estate Guide, you can easily record important documents, banking accounts, retirement and investment accounts, important contracts, funeral plans or more for you and your immediately family. All information is encrypted for added security.
Identity IQ Protect
Safeguard your identity. Enrolling in the Identity IQ program provides daily credit file monitoring of your Experian credit file, with email alerts, fraud alert assistance, credit score tracking, comprehensive victim assistance, including up to $25,000 of expense reimbursement. Protect against one of the fastest growing crimes. Note: this is an optional service that requires separate enrollment on your behalf and a valid email address.
Health Discounts
Bank Club members save on prescription drugs and a wide range of health services. Prescription drugs discounts available for over 60,000 brand and generic drugs at over 59,000 pharmacies, with savings as high as 50%. Use any time with no annual limit. Save up to 45% at over 150,000 dental providers, up to 50% at 11,000 OUTLOOK vision providers, and up to 15% for 80 hearing aid models at 1,500 Beltone loactions nationwide. Note: This is not insurance. It is a discount medical program.
Details on benefits and enrollment are available at The Bank of San Jacinto County.